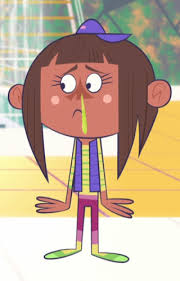 Boogaz
Background Information
Feature Films
Television Series
The Mr. Peabody & Sherman Show
Video Games
Voice
Grace Kaufman
Inspiration
Character Information
Nicknames
Personality
Appearance
Birthday
Occupation
Home
Relatives
Pets
Allies
Mr. Peabody, Sherman, Mason, Wheels
Enemies
Likes
The Laser Robot Tiger Troopers, skateboarding, baseball
Dislikes
Being blamed for bad parenting, poor sports
Quote
'
Boogaz
is a character from
The Mr. Peabody & Sherman Show
. She is Sherman's classmate at school. She attends the Laser Robot Tiger Troopers and Sherman's peewee league baseball team. She got her nickname because she has severe nasal congestion and snot tends to drip down from her nose.
Appearance
Boogaz has tan-like skin, hair that grows down the sides and splits and a triangular nose. There's also a gap in her front teeth and blush marks on her cheeks. In each episode, she wears a different outfit.
In her first appearance in "Patch Games / Mark Twain", she wears the Laser Robot Tiger Troopers uniform.
In "Scrambled Eggs / George Stephenson", she wears a yellow shirt with green stripes, a purple vest, light and dark pink pants, yellow socks, green shoes, and a purple baseball cap. This is likely her normal attire.
In "Secret Agent Sherman / Alexander Cartwright", she wears an old-timey baseball uniform with an old-timey newspaper boy cap.
In "Jump the Whale Shark / Frédéric Bartholdi", she wears a two-piece purple bikini.
Episodes
Community content is available under
CC-BY-SA
unless otherwise noted.