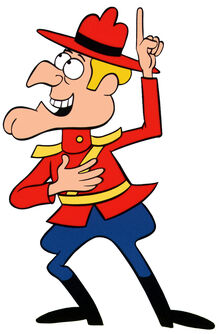 Dudley Do-Right
Background Information
Feature Films
Rocky and Bullwinkle (cameo)
Television Series
The Rocky & Bullwinkle Show
Dudley Do-Right of the Mounties
The Mr. Peabody & Sherman Show (cameo)
Video Games
Voice
Bill Scott (1959-1964)
Keith Scott (1998)
Inspiration
Canadian Mounties
Character Information
Nicknames
Personality
Kind, lovable, dimwitted, overzealous, incompetent
Appearance
Birthday
Occupation
Mountie
Home
The Royal Canadian Police
Relatives
Pets
Horse
Allies
Nell Fenwick, Inspector Fenwick, Horse, Rocky J. Squirrel, Bullwinkle J. Moose, Mr. Peabody, Sherman
Enemies
Snidely Whiplash, Boris Badenov, Natasha Fatale, Fearless Leader
Likes
The law, catching his man, Nell
Dislikes
Disappointing the Inspector, villains, lawbreakers
Quote
'
Dudley Do-Right is the titular protagonist of Dudley Do-Right of the Mounties.
Biography
"Dudley was born of well-to-do-right parents in Toronto, where his father, Praise Be Do-Right, was a well-known chickpea distributor. At the DeLacey School of Good Conduct, where he was the three-time winner of the Fauntleroy Exemplary Behavior Award, he was known affectionately as "Fink" Do-Right.
Throughout Dudley's life, his goodness has shown through his every deed. Small wonder, then, that this sterling youth should turn to law enforcement for his career; and there was of course only one organization pure enough to meet Dudley's high standards—the Mounties!
Under the genial tutelage of his superior, Inspector Fenwick, Dudley has become the most implacable, incorruptible and incompetent man-tracker on the force. A stickler for regulation, Dudley is the only Mountie known to starch his underwear and socks, and to adjust his hat with a plumb-bob and mason's level."
History
Dudley Do-Right
Dudley Do-Right is a dim-witted, but conscientious and cheerful Canadian Mountie who is always trying to catch his nemesis, Snidely Whiplash, and rescue damsel in distress Nell Fenwick, his boss's daughter, with whom Dudley is deeply infatuated. He usually succeeds only by pure luck or through the actions of his horse, named "Horse". A running gag throughout the series is Nell's great affection for Horse and her disregard for Dudley.
Ever since he was a child, Dudley Do-Right has dreamed of becoming part of the Canadian Mounties. When he becomes an adult, he achieves his goal, but is oblvious to all of the crimes happening. While his childhood friend, Nell Fenwick has gone off to see the world, he and his ex-best friend, Snidely Whiplash have become engaged in a feud, due to Snidely becoming a bank robber.
One day, Nell returns from her travels and reunites with Dudley. The two attend a festival for the Kumquat Tribe and start to reconnect with each other.
Meanwhile, Snidely has become famous around town for his robberies and renames Semi-Happy Valley into "Whiplash Valley". Dudley decides to investigate what Snidely is up to, but Snidely laughs at it and snatches Nell from Dudley. When Inspector Fenwick finds out about Dudley's feud with Snidely, he fires him right on the spot and it sends Dudley into a deep depression.
Dudley makes a cameo appearance in the short at Bullwinkle and the Lady-Moosebot's wedding. He is for Bullwinkle's side of the wedding.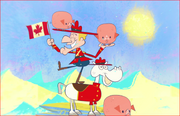 Dudley and Horse make a cameo in the episode, "Medieval Fest / John Sutter" during the "California" scene of the episode. The two are seen waving flags for Canada.
Physical Appearance
Dudley has blonde hair and wears a Canadian Mountie outfit.
Trivia
Dudley has his own ride at Universal Island of Adventure's Toon Lagoon called "Ripsaw Fields".
Dudley is allergic to marigold flowers.