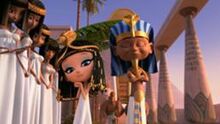 King Tut
Background Information
Feature Films
Mr. Peabody & Sherman
Television Series
Video Games
Voice
Zach Collison
Inspiration
The real King Tut
Character Information
Nicknames
Personality
Appearance
Birthday
Occupation
Pharaoh
Home
Egypt
Relatives
Pets
Allies
Enemies
Likes
Dislikes
His fiancée was escape
Quote
"Penny! My bride!"
King Tut
is a minor antagonist in the film,
Mr. Peabody and Sherman
. He is Sherman's rival for Penny's affectiion.
King Tut first appears when Peabody is about to take Penny home from ancient Egypt, but he intervenes. It is also revealed that Penny is Tut's girlfriend and they are to be married the next day (though Penny intends to steal Tut's money and throne when he is killed at the wedding). But when Penny found out when King Tut is killed, she will be murdered too and turned into a mummy. Penny tries to leave but Tut intends to keep Penny all to himself (being a cruel and barbaric era). When Peabody and Sherman save Penny, he and his evil servant, Ay plan to get Penny back by any means necessary. But Peabody, Sherman, and Penny escape.
But, when Penny and Sherman cause a rip hole in the space-time continum, he arrives in the present and lands on a windsheild. To Sherman's anger, he wipes him away.
Community content is available under
CC-BY-SA
unless otherwise noted.