This is a complete listing of episodes from Peabody's Improbable History and The Mr. Peabody & Sherman Show.
Peabody's Improbable History (1959-1960)
Main article: Peabody's Improbable History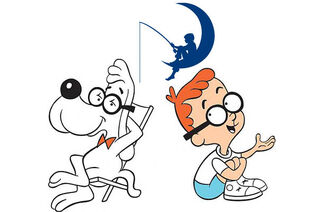 Mr Peabody, the "Puppy Prodigy," graduated "Wagna Cum Laude" from Harvard University at age 3, followed by a stint in the foreign service, a few government research projects, and some time as the "Woof of Wall Street," amassing enough of a fortune to live out the rest of his life and then some. Eventually, Peabody decided to seek out companionship by adopting and raising a human boy. After rejecting several candidates, he saw Sherman being beaten up by a couple of bullies. Mr Peabody bared his teeth at the assailants and escorted Sherman back to the Hardrock Orphan Home, but upon seeing just how hard it was, Mr Peabody decided to apply to adopt Sherman. After calling favors from his many connections, the court ruled: "There is no reason why, if a boy can have a dog, a dog can't have a boy." Once Sherman had moved into Mr Peabody's New York penthouse, however, Peabody discovered that human children need "running room." To that end, Mr Peabody constructed his WABAC, a time machine, as a gift for Sherman's 6th birthday, and the rest, as Peabody would say, is history.
Episodes (1959-60)
"Napoleon"
"Don Juan"
"Nero"
"Cassnova"
"Geronimo"
"Galileo"
The Mr. Peabody & Sherman Show (2015-2017)
Main article: The Mr. Peabody & Sherman Show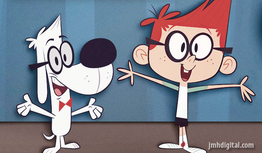 Rocky
and
Bullwinkle
's best buddy, Mr. Peabody, returns to television in his first incarnation in over 55 years! This time, he's hosting his very own late night talk show in his New York penthouse with all new adventures in his beloved WABAC machine. Plus, Mr. Peabody's boy, Sherman stars in his own segment called "Sherman's Corner" where he shows all kinds of interesting things. However, the show is far from perfect, tons of people including Mr. Peabody's neighbors and many audience members are always trying to get on the action and always ruin Peabody's plans for a perfect show.. Join Mr. Peabody on his new improbable adventures on the
Mr. Peabody & Sherman Show
!
Episodes
Season One (2015)
Season Two (2016)
Season Three (2016)
Season Four (2017)
Community content is available under
CC-BY-SA
unless otherwise noted.