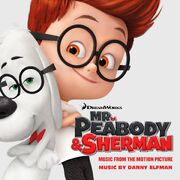 Mr. Peabody & Sherman: Music from the Motion Picture is the soundtrack for the film, Mr. Peabody & Sherman, composed by Danny Elfman. It contains an original song by Grizfolk and a rendition of Beautiful Boy by John Lennon, ex member of the Beatles. It is published by Relativity Music Group.
TrackList
Mr. Peabody's Prologue
Reign Of Terror!
The Drop Off
The Dog Whistle
The Cherry Tree
A Deep Regard
Beautiful Boy (Darling Boy) – John Lennon
Dinner Party
The Petersons / The Wabac Machine
Aquarela Do Brasil
Off To Egypt
The Wedding Exodus
Hammer-Time
The Flying Machine
Trojan Horse
War / Disaster
History Mash-Up
I'm A Dog Too
Fixing The Rip
Back To School
Aquarela Do Brasil (Coda)
The Amazing Mr. Peabody
Way Back When - Grizfolk
Songs not included in the soundtrack
Pompeii - Bastille
Kid - Peter Andre
Hey Now (Radio Edit) - Martin Solveig & The Cataracs feat. Kyle (In international trailer)
Collectable editions
Five collectable editions of the soundtrack are available with the artwork of Mr. Peabody as various historical figures such as Abraham Lincoln. (See the "He's leaving his mark on history" posters in the film's gallery section for the five designs.) They also include an exclusive coloring book.
These editions are available at local retailers such as Target or F.Y.E., but may not be available through their respective websites.
Community content is available under
CC-BY-SA
unless otherwise noted.