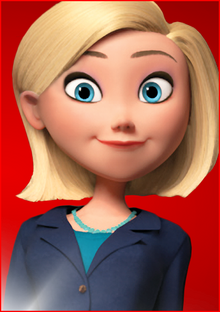 Patricia "Patty" Peterson
Background Information
Feature Films
Mr. Peabody & Sherman
Television Series
Video Games
Voice
Leslie Mann
Inspiration
Character Information
Nicknames
Personality
Sweet, kind, motherly, cheerful
Appearance
A tall version of Penny, blonde hair, large breasts, big hips, blue sweater, matching necklace, tight black pants
Birthday
Occupation
Home
New York City
Relatives
Paul Peterson (husband)
Penny Peterson (daughter)
Pets
Allies
Mr. Peabody
Sherman
Penny Peterson
Paul Peterson
Enemies
Ms. Grunion
Likes
Having fun, Peabody, her family
Dislikes
Quote
"Wasn't that funny Paul?"
Patricia "Patty" Peterson is a character in Mr. Peabody & Sherman. She is the mother of Penny Peterson. 
History
After Sherman is threatened by an evil social worker named Edwina Grunion to be taken from Mr. Peabody, Peabody invites Patty and her family to dinner to make amends for Sherman's behavior. Patty is excited to meet Peabody, but her husband, Paul isn't at all interested. 
Mr. Peabody wins Patty over, but not Paul. However, after Paul breaks his back, Peabody fixes his back and finally becomes friends with Paul. When Sherman tells Mr. Peabody that Penny used the WABAC to go to Egypt, Patty and Paul start wondering where Penny is. Peabody hypnotizes the Petersons and puts them in a trance when he and Sherman go get Penny back. 
After Peabody assumingly dies in Troy, Sherman and Penny decide to go back to when Sherman lost Penny, so they can warn Peabody and he won't die. However, Penny's parents see the two Shermans and Peabody is revealed to have survived the crash in Troy. Before Peabody can fix everything, Grunion arrives to take both Shermans away. Despite Paul and Patty's protests, Grunion does so anyways. Peabody stops her and he and his past self begin to morph into one and so do the two Shermans. 
When all the historical figures fall into the present and cause mayhem around the city, Grunion decides to have Peabody arrested under false pretenses. However, with Sherman's help, Peabody is pardoned and freed to go. Sherman and Peabody decide to reverse everything by going to the future and the universe is saved at last. 
Personality
Patty is very kind, motherly, and was overly enthusiastic to meet Mr. Peabody. She loves her daughter and husband dearly and is apparently a very compasionate character, as she decided to come with her family to Peabody's penthouse for dinner to make amends for Sherman's behavior.
Appearance
Patty looks much like Penny except she has shorter hair. She has large breasts, big hips, and a thin waist.
Trivia
Her original name was "Paula.