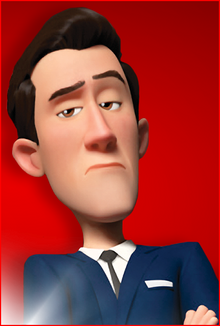 Paul Peterson
Background Information
Feature Films
Mr. Peabody & Sherman
Television Series
Video Games
Voice
Stephen Colbert
Inspiration
Character Information
Nicknames
Personality
Stern, grouchy, fatherly, protective
Appearance
Tall, fair skin, blue business suit, smooth wavy hair
Birthday
Occupation
Businessman
Home
New York City
Relatives
Penny Peterson (daughter)
Patty Peterson (wife)
Pets
Allies
Mr. Peabody, Sherman
Enemies
Ms. Grunion
Likes
Penny, Patty, music
Dislikes
Laughing, Mr. Peabody (formerly)
Quote
"Sure I'll take a survey."
Paul Peterson is a character in Mr. Peabody and Sherman, who gets mad at Mr. Peabody about the incident with Sherman and Penny but later becomes good with Mr Peabody, as he shows Paul his intelligence. 
Personality
He is a very serious stern who is easily angered and distracted by his phone calls. He doesn't seem to like Peabody very much and not very interested. At first, he does not like Peabody but after fixing his back, he grows fond of Peabody. He also seems to care a lot for Penny.
Trivia
Some say that Paul was going to be the main antagonist but with the release in the United Kingdom it is revealed that Paul Peterson is not the main antagonist and that Mrs. Grunion is.
Steven Colbert (the voice actor for Paul) also voiced the President in another Dreamworks movie, Monsters vs. Aliens.